Image Copyright 2018 Earl Campbell Photography
The largest billfish tournament in the world begins this week in Ocean City and as anglers, their families and fans descend on the area, everyone wants to know the best spot to see the action (14th Street and the Bay) and the best place to celebrate with the winning fishermen (the Sunset Grille). No one, however, expects their WMO week to end with an arrest and criminal charges.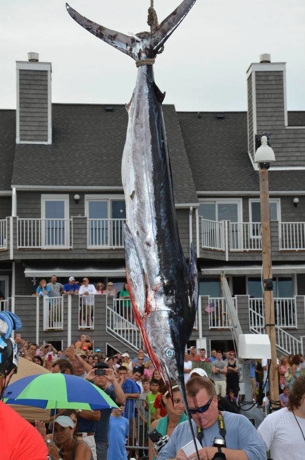 The festive atmosphere as the big boats vie for millions in prizes can lead to too much fun and, if you are not careful, unwanted run ins with law enforcement and even criminal charges. As criminal defense attorneys with more than 20 years experience defending cases in Ocean City, Maryland, we have represented anglers and fans of the WMO for years, so we know what gets people in trouble. Here are seven top ways to avoid getting arrested in Ocean City if you're in town for the White Marlin Open:
1. Take a Bus or an Uber
The action at the White Marlin Open is at the weigh in and at the marina, but many fishermen stay in condos and hotels in Ocean City and some spectators just drive in for the day. Don't chance it by driving drunk or even buzzed back to your hotel after a day and night of celebration. Fortunately, there are plenty of Ubers and taxis to get you back safely to your room. This is safer than walking because public intoxication will get you arrested in Ocean City. Call yourself an Uber before the OCPD calls you a paddywagon, which only provides one-way transportation to the holding cell at 65th Street.
2. Don't Walk Around with an Open Container of Alcohol
If you and your buddies are celebrating that big marlin, wahoo or tuna, do your celebrating at the bar, at the hotel or in designated outdoor areas, such as the weigh-in station on 14th street. Carrying an open container in public is punishable under a local ordinance that, unlike the rest of Maryland, carries up to six months in jail, not just a fine. Make sure to finish or leave behind your drink before going onto the street, boardwalk or beach.
3. Leave When Asked to Leave
At our local bars, a bouncer's decision is final. If you've been asked to leave, perhaps even for something your friend did, respect the bouncer and leave. Don't argue. Don't try to get back in. And if you're the one being asked to leave due to too much alcohol, go home and sleep it off. Arguing with a bouncer can get you charged with assault, trespass, and disorderly conduct, among other crimes
4. Don't Smoke Pot in Public
For those who possess a cannabis card, medical marijuana is legal in Maryland and, for anyone, possession of less than 10 grams of marijuana is now just a civil offense, but smoking marijuana in public can and will get you arrested.
5. Don't Share Your Marijuana
Undercover police officers roam the boardwalk trying to score weed from visitors to OC. Even pinching off a little bit of your stash as a friendly gesture to what may appear to be a fellow smoker can get you arrested and charged with marijuana distribution, a felony that carries real jail time.
6. Leave Your Assisted Opening Knife on the Boat
Almost every boater and fisherman owns an assisted opening knife. There's no better tool when you need to open a blade and cut a line one-handed. But leave that knife on your boat, not in your car or pocket, because, under local Ocean City ordinance, assisted opening knives are illegal to possess. Every year, we see anglers surprised that one of their everyday tools is illegal to possess (or sell) in Ocean City. While the marinas in West Ocean City are not within the municipal limits of Ocean City, everything from the inlet to 145th Street is. If you get caught with an assisted opening knife, under local law, you face six months in jail, a $1,000 fine, or both.
7. Don't be an A**hole
If you are confronted by law enforcement, be respectful and polite. If you've committed a crime in front of an officer, you probably can't talk your way out of it, but you can talk yourself into more charges. Failing to obey a lawful order of a police officer, resisting arrest, and disorderly conduct charges all can arise from being uncooperative to law enforcement when you are confronted by them. You don't have to answer questions and you certainly do not have to admit to any wrongdoing, but you also don't have to be an a**hole. The police have a job to do and making their job harder by arguing or fighting never goes over well.
What to do if you are arrested
Ocean City is a great place to visit and has some of the best fishing in the world. Enjoy your week at the White Marlin Open. If you or a friend do get criminally charged, call Anthenelli, Phoebus & Hickman, LLC for a free case evaluation and find out how we can help defend you from these and other criminal or serious traffic charges.