A study released this week revealed that Worcester County, Maryland, home to Ocean City, has the highest arrest rate for the crime of marijuana possession in the nation.
Worcester County marijuana users arrested at 8 times the national rate
The national average for marijuana arrests is just 256 per 100,000 people. As a state, the State of Maryland is the third-highest in the nation (behind D.C., New York, and Nebraska) at a rate of 409 arrests per 100,000). But in Worcester County, Maryland, that rate climbs to an astounding 2,132 marijuana possession arrests per 100,000. This is 8.3 times higher than the national average and more than five times higher than the state average.
As this chart from the ACLU report entitled "The War on Marijuana in Black and White" shows, simple possession arrests for marijuana in Worcester County are literally off the charts: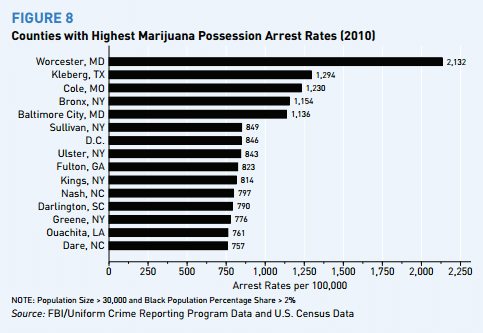 Many vacationers and students working in Ocean City for the summer come from states that have much laxer marijuana laws and are often surprised at the level of enforcement they encounter.
As of October of 2012, a new Maryland law permits lesser punishment for possession of 10 grams or less of marijuana, but even this lesser charge still carries up to 90 days in jail. Ten grams or more can carry up to a year in jail; distribution up to 5 years.
Although some sources characterize recent legislation in Maryland as having permitted medical marijuana, since 2003, persons who use marijuana for medical purposes and can convince a judge of their "medical necessity" for doing so may be fined only $100, but still face criminal conviction. New this year, as of June 1, 2013, caregivers who procure marijuana for their patients can assert this as an affirmative defense to avoid prosecution. Qualifying as a "caregiver" is difficult and likely requires advanced consultation with a lawyer. There is, however, no legal way to sell marijuana for medical purposes.
Update: High rate possibly explained by large number of visitors and/or increased police enforcement
A footnote on page 46 of the report offers a possible explanation for this high rate. The footnote states:
"One possible explanation for the conspicuously high arrest rate in Worcester County, even relative to the other counties with the highest total marijuana possession arrest rates, is its encompassment of Ocean City. Ocean City is a beachside community with a year-round population of less than 10,000, but it is a popular tourist destination that receives hundreds of thousands of vacationers over the summer, and up to 8 million visitors annually. This constant population influx may increase the number of people who possess marijuana in Worcester County and/or increase the police enforcement of marijuana laws during those heavy population influxes."
Thanks to the Daily Times for pointing this out.